Regular price
Sale price
$17.00 USD
Unit price
per
Sale
Sold out
Share
Candle ingredients

In addition to being handmade in Quebec, the candles are made of 100% vegetable coconut and soy wax. The wicks are made of natural fibres. unleaded. The candles contain fragrances without phthalates or parabens. YEAH 🤍

Handmade in Quebec by me

8oz-225g // Burns: 45-50 hours
Little maintenance tips

FOR CANDLES

1. When using for the first time, be sure to light the candle until the melted wax reaches the rim of the container (this takes about 3-4 hours). Thus, during subsequent uses, the wax will burn evenly.

2. Before relighting your candle, be sure to trim the burnt end of the wick to approximately 1/4"). This will allow the fragrance to diffuse better into your room!

3. Never leave candle unattended and/or lit for more than 4 hours. So be sure to read the safety instructions located under the candle before use. If at any time the flame gets too high, extinguish the candle, let it solidify before cutting the wick and relighting it.

FOR THE CREWNECKS

Wash in cold water (preferably inside out).
Avoid the dryer (yes yes, even if it's faster)

Product Details:

Soft and stretchy preshrunk cotton sweater with cozy fleece backing

Oversized shape with long sleeves and round neckline

Top quality embroidery and printing

Personalized label with a nice little message inside

Presence of 5 phrases printed on the left sleeve

* The crewneck is non-exchangeable & non-refundable. Be sure to check the size with the chart before placing your order!
2nd life of spark plugs

THE BEAUTIFUL NEW TOÉ THING! After the consumption of your candle, the jar is reusable, so you can give it a second life!

Personally, I use them as a drinking glass as well as for storage of little cossins, but here is a more complete list of ideas if ever!

PSST! to remove wax residue, the method with boiling water and soap is, in my opinion, the most effective!
Delivery

All orders ship between 1-5 business days from date of purchase.

Delivery is $9.99 and becomes FREE from $99 and more purchases!
I don't know about you, but the phrase 'fresh as a rose' rarely applies to me in the morning. Hair all crooked, both eyes in the same hole, and to be honest, I tend to stuff itou. Faique I looked for a solution to try to start my day well (other than good old Morning sex ). Since Kale smoothies didn't seem like a permanent solution, my new favorite cup (and my favorite product on the store) was born. Also because 2-3 compliments a day wouldn't hurt me (people in my life, take note thank you), well I wanted to write them down to have them in my face while having my lunch.
I tell you, being told that I have a nice ass and that I'm going to have a great day, well it's weird but it seems that it forces me to see the positive as soon as I get up. Placebo effect or magic cup? Nobody knows, but one thing is certain: it's impossible for you not to have a little smile while drinking your coffee in that cup in the morning. And in case you look fru in the ass in the morning, a little smile, it's a pretty good start for a fantastic day.
11oz ceramic mug
Dishwasher and microwave safe.
* The design is present on all sides. Right-handed or left-handed, everyone finds what they are looking for!
View full details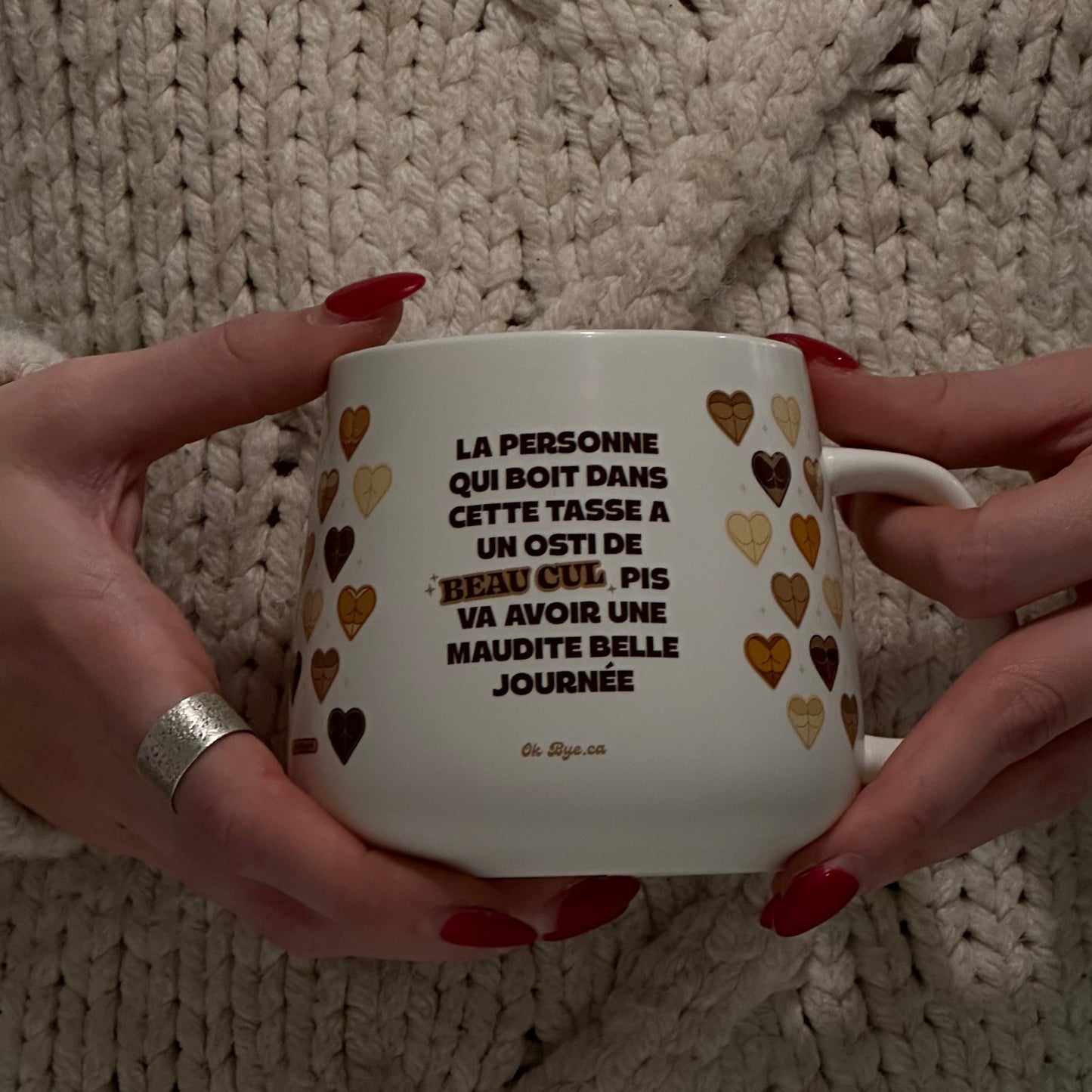 Que du positif
Pour vrai, j'adore ma tasse je bois tous les matins mon matcha dedans et elle est juste trop belle. Je l'adore vrm et la qualité est WoW
😍
J'ai découvert l'entrepreneure derrière OK bye récemment et je la trouve inspirante! Je vais définitivement acheter d'autres produits de la compagnie !!! :)
Que du positif
Pour vrai, j'adore ma tasse je bois tous les matins mon matcha dedans et elle est juste trop belle. Je l'adore vrm et la qualité est WoW
😍
J'ai découvert l'entrepreneure derrière OK bye récemment et je la trouve inspirante! Je vais définitivement acheter d'autres produits de la compagnie !!! :)